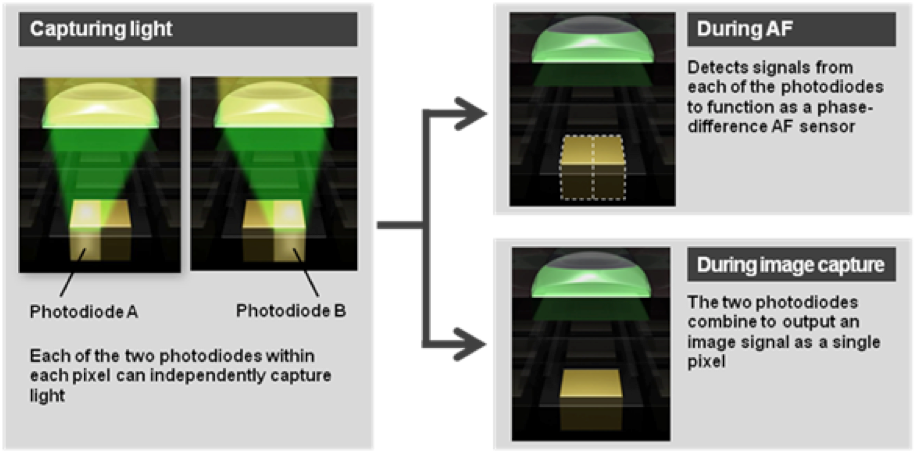 As you all know phase detection focusing is one of the main area of interests that Olympus and Panasonic are focusing on. Particularly Olympus needs that to have full Four Thirds lens support on Micro Four Thirds cameras. And the next MFT cameras are "rumored" to have on sensor phase detection. We already had a couple of cameras from Sony, Canon, Nikon with such AF pixels on sensor. But there was always a trade off. You have to "give-up" some space and therefore sacrifice resolution for the dedicated AF pixels. More AF pixels you add (to increase the AF performance) more RGB pixels you loose. That was the equation until today:
Canon just announced the new 70D ($1199 DSLR). We wouldn't care about it if there would not be a new amazing feature. The 70D features a "Dual Pixel CMOS AF" sensor. And the amazing thing is that every pixel can do both at the same time: Capture the light for the actual image, and act as phase detection agent! A detailed description can be read at Dpreview: According the Canon the EOS 70D's Dual Pixel CMOS AF system has the following key characteristics:
Usable phase detection AF area covers 80% of the frame horizontally and vertically
AF works at apertures down to F11
AF works in light levels as low as 0 EV
Can work with face detection to keep moving subjects in focus
This sounds like a great solution! I am sure Sony sensors will have a similar solution that will be implemented by future Olympus cameras.