Olympus may will continue without partnership with Sony/Fuji. Will simplify digital camera business.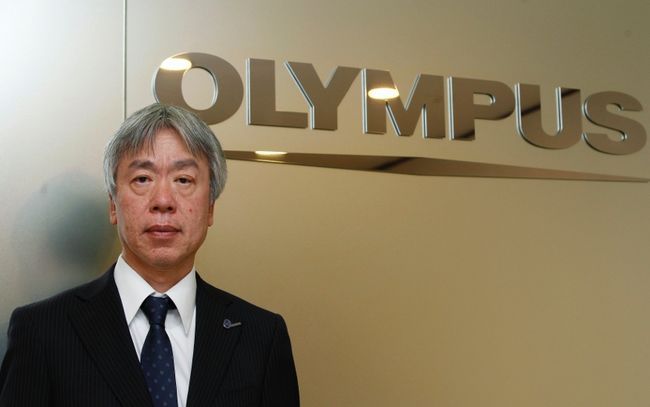 Olympus CEO Hiroyuki Sasa
The upcoming new Olympus CEO Hiroyuki Sasa has been interviewed by Japantimes (Click here). He confirms the partnership interest from Fuji and Sony but also underlines the possibility that Olympus may can handle the current financial situation alone without any external help. The very interesting part for us is that Sasa wants to "narrow down our (digital camera) portfolio" and "we can make the (digital camera) business fully profitable."
Some types of inexpensive compact digital cameras will be withdrawn but at the same time the company also intends to strengthen its popular mirrorless interchangeable lens camera (says Sasa).
As I already wrote many times here there is to much product reiteration and too many similar cameras. Ans example is the absurd triple [shoplink 23565]E-PM1[/shoplink], [shoplink 23567]E-PL3[/shoplink] and [shoplink 23568]E-P3[/shoplink] release. Could be that Olympus wanted to test which one sells more but as I think two PEN cameras would be enough. No need to waste time developing and producing three almost similar PEN cameras. A cheap entry level E-PM1 and an advanced E-P3 (with E-PL3 tilting screen) is all what we need.
For the most advanced user they already made a great camera like the [shoplink 29074]Olympus E-M5[/shoplink]. I don't know if there is room for another m43 camera category. I would now focus on two aspects: 1) Sensor: Something special has to be done here like the Fuji X PRO 1 sensor did. 2) Connectivity and Applications: Just look at that new Polaroid camera. It is the future :)
—-
P.S.: Links to all current Olympus m43 cameras (Click on shopname to open the search page).:
E-M5 [shopcountry 29074].
E-P3 [shopcountry 23568].
E-PL3 [shopcountry 23567].
E-PM1 [shopcountry 23565].