a little bit of M-mount lenses ;)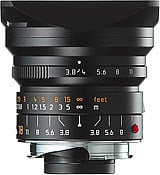 One thing is sure. With your Panasonic or Olympus micro four thirds camera you will be able to use a lot of M-mount lenses! We already wrote an article over the very loooooong adapter list.
Don't forget the new Novoflex and Voigtländer Adapter.
Wouldn't be wonderful to use Leica lenses on your digital camera? So you want to see which lenses are avaiable and how good they are?
I will give you some help ;)
1) Voigtländer lenses. This page list them all adding some personal judgment from the author
2) A very deep review of M-mount lenses are avaible here at luminous landscape.
3) And we don't want to forget to mention the BIG guru Ken Rockwell!
Feel free to update the list in your comments!!!