(FT4) Rumors are becoming stronger about a new Olympus camera with hybrid MFT-FT mount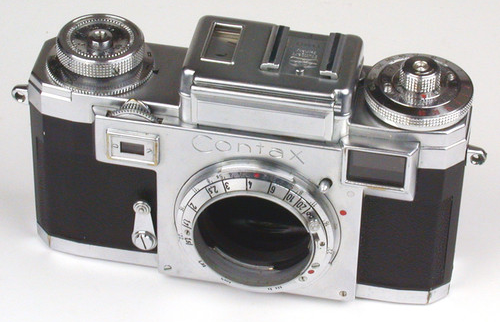 [/shoplink]
The [shoplink 39058 ebay]Ikon Contax[/shoplink] also had a hybrid mount solution
–
The new GX camera rumors really has stolen the show from Olympus. But trust me, that's going to be a strong and intriguing rumor battle! In these last few days I got two rumors from sources I know from a long time. Both told me that they got hints about a new high end Olympus camera that will be announced in September. And it's going to be a camera much larger than the current E-M5 that has a mount that allows to take both Four Thirds and Micro Four Thirds lenses without the use of any adapter!
How this could work I don't know. There are two examples from the filmcamera history but I don't know if Olympus will pickup one of the two ideas (or both together):
1) [shoplink 39057 ebay]Contax AX camera (here one Bay)[/shoplink]: The camera had a moving film plane inside the camera.
2) [shoplink 39058 ebay]Zeiss Ikon Contax (here one Bay)[/shoplink]: The original Contax rangefinder made from the 1930ies to the 50ies had two bayonets! Camerapedia explains how this works: "This mount is in fact the combination of two bayonets. There is a focusing helical built in the body and the standard lenses mount directly in that focusing ramp via an internal bayonet. So the standard lenses have no focusing ring of their own. The other lenses mount on an external bayonet and have their own focusing ring, only the rangefinder coupling is done via the body's focusing ramp." A nice image of the mount can be seen at Fotocommunity.
I hope some of our sources can me soon explain how this works for real (if the rumor is true). This is going to be a really exciting time, GX successor sounds amazing and that Olympus high tech may turn out to be a really nice (and useful) camera too!
Stay tuned on 43rumors! (and if you have some time help us to test our new beta deals site project: DealsRunner.com).
—
For sources: Sources can send me anonymous info at 43rumors@gmail.com (create a fake gmail account) or via contact form you see on the right sidebar. Thanks!
For readers: Don't miss any news. Join our group on facebook and follow our tweets.
Rumors classification explained (FT= FourThirds):
FT1=1-20% chance the rumor is correct
FT2=21-40% chance the rumor is correct
FT3=41-60% chance the rumor is correct
FT4=61-80% chance the rumor is correct
FT5=81-99% chance the rumor is correct