(FT4) Is this the first picture of the GF5? And G5 also coming soon!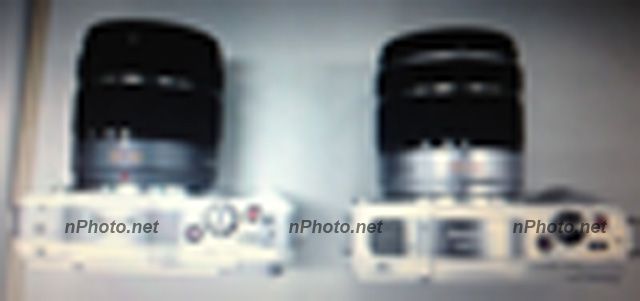 On left the current [shoplink 23109]GF3[/shoplink] and on right the new GF5!
A post at Nphoto unveils what appears to be the first picture of the GF5 (on the right!). The poster says the GF5 will use a 12 Megapixel sensor with an improved SNR (Signal to Noise Ratio). THE SNR is as good as the one on the [shoplink 22077 ebay]Panasonic G3[/shoplink]. It goes up to ISO 12.800, super fast AF of 0,09seconds and a new 920k dots touch screen LCD. The touch screen interface has been revised. Sounds liek a nice evolution but it will be hard to beat the real big deal of the moment…the cheap and hackeable GF2!
And there is a second surprise. Also the Panasonic G5 will be announced soon and use the same [shoplink 22077 ebay]G3[/shoplink] 16 Megapixel sensor. What will change is the shape of the camera.
After two months of [shoplink 29074]Olympus E-M5[/shoplink] rumors and news we can finally start to talk about Panasonic again! ;)  The rumor has a FT4 value because other sources confirmed that the camera is coming. I am also in touch with the person that leaked this and hopefully we will get some more pics soon!
Links to the current two Panasonic models:
Panasonic G3 at [shopcountry 22077].
Panasonic GF3 at [shopcountry 23109].
—
Rumors classification explained (FT= FourThirds):
FT1=1-20% chance the rumor is correct
FT2=21-40% chance the rumor is correct
FT3=41-60% chance the rumor is correct
FT4=61-80% chance the rumor is correct
FT5=81-99% chance the rumor is correct