The triple Leica MFT lens comparison by Giulio Sciorio.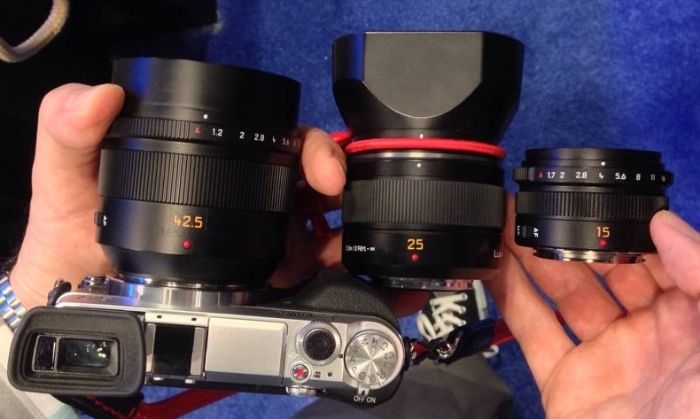 Image courtesy: SmallCameraBigPicture.com.
You saw them separately before but never all them together in one comparison shot. The picture has been taken by Giuglio Sciorio. You see the Nocticron 42,5mm f/1.2 (coming early 2014), the current 25mm f/1.4 and the 15mm f/1.7 lens  (coming 2014). You can see more pictures including an 35-100mm image at Smallcamerabigpicture.com where he posted a Lumix PPE Report. This is what he writes about the new Nocticron lens:
Metal, glass and built to last – It's a very well made lens with a feel that is all Leica. Because of all the metal and glass its not a light lens. That said it's not very heavy but it has heft. The aperture ring is smooth and easy to operate and the aperture itself is very round. I did not count how many blades make up the aperture but I am expecting some very nice bokeh. The Leica 42.5/1.2 is a new level of premium glass for the Micro 4/3 system so don't expect it to be inexpensive. This is a pro grade lens all the way and like all Leica glass any aberrations are corrected optically not through firmware so expect this lens to perform well on both Lumix and Olympus bodies.
Thanks Giulio!