Impressive in Japan: Mirrorless surpasses DSLR market share. M43 surpasses Nikon and Canon!
Our reader YouDidntDidYou (Thanks!) found some impressive slides from Olympus. It shows how the mirrorless market is growing all over the world. And in Japan the Mirrorless market surpassed the DSLR sales for the very first time! And Micro Four Thirds surpassed Nikon and Canon!!! Yep, that is almost a miracle :)
The first slide on top shows the interchangeable camera market share in Japan. Micro Four Thirds mount cameras are the most sold system in Japan and Olympus forecast shows a strong tendency upwards. And for the first time we can finally see the mirrorless market share of all most important countries in the world: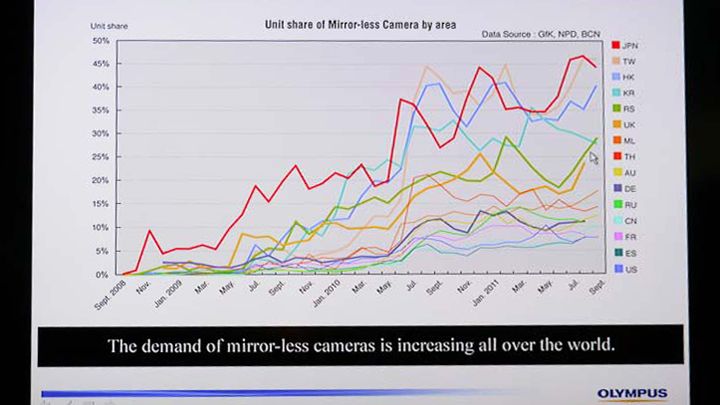 And this is the company market share in Japan:
Good news for us! But let's see how the data will be in one year when Canon will have striked back!
Watch:
Amazon ranking in USA (Click here)
Amazon ranking in UK (Click here)
Amazon ranking in Germany (Click here)
Amazon ranking in France (Click here)
Updated Preorder list:
Black E-M5 body at Amazon (Click here), Adorama (Click here) and BHphoto (Click here).
Silver E-M5 body at Amazon (Click here), Adorama (Click here) and BHphoto (Click here).
Black E-M5 body with 14-42mm lens at Amazon (Click here), Adorama (Click here) and BHphoto (Click here).
Black E-M5 body with 12-50mm lens at Amazon (Click here), Adorama (Click here), BHphoto (Click here) and Jessops (Click here).
Silver E-M5 body with 12-50mm lens at Amazon (Click here), Adorama (Click here), BHphoto (Click here) and Jessops (Click here).
FL-600R wireless flash at Amazon (Click here), Adorama (Click here) and BHphoto (Click here).
MMF-3 Four Thirds adapter at Amazon (Click here) and Adorama (Click here)
HLD-6 power battery holder at Amazon (Click here) and Adorama (Click here)