I guess this is now a direct competition news: Canon EOS R specs and image leaked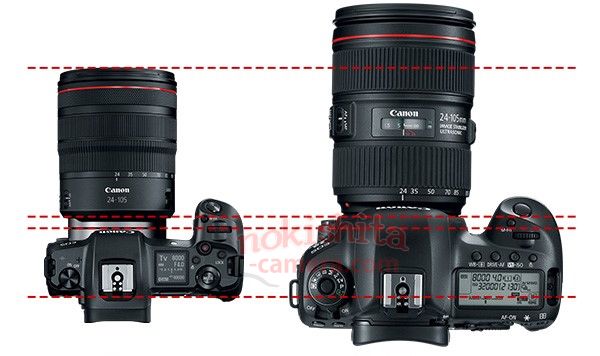 On left: The new EOS R FF mirrorless.
This is really a weird feeling. Now that we know Panasonic will launch a new FF system camera we have to report what the direct competition is doing! Canon will announce the EOS-R FF mirrorless on September 5. And here are the first leaked specs and images:
EOS-R:
30.3 Million Pixels Full Size CMOS
Dual pixel CMOS AF
The ranging range is 100 × width 88% of the live view video display range
EV-6 low brightness autofocus
4K video
Touch panel liquid crystal
Multifunction bar installed (2nd picture image)
Wi-Fi · Bluetooth installed
Dustproof drip-proof · magnesium body
Battery: LP-E6N
Battery grip: BG-E 22
Size: Width of about 136 mm × height of about 98 mm
Weight: Approximately 580 g
Mount: inner diameter 54 mm, flange back 20 mm, 12 pin
Mount adapter: "Mount adapter EF – EOS R" "Control ring mount adapter EF – EOS R" "Drop – in filter mount adapter EF – EOS R"
Full lens lineup:
This is what Panasonic has to beat to win over potential buyers. They key for their success also lies on the lens roadmap. I hope they have some fast primes and zooms coming soon too!
I am working to get some info about the new Panasonic FF. Stay tuned and join our new Panasonic FF facebook group!