(UPDATED) Big rumors from competition: Canon mirrorless with Four Thirds sized sensor?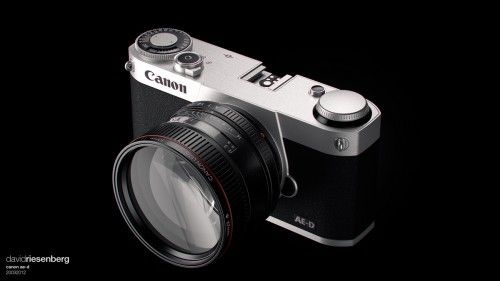 Canon concept mirrorless camera by David Riesenberg (Click here)
From time to time it's good to report some bigger news coming from the competition. Particularly when the name of the competitor is Canon :)
Canon released the Q1 earnings call and included some info about the future strategy. Canon says that they will launch compact cameras "offering the image qualities that approaches SLR cameras, with improved design and network connectivity features". This sounds like they are close to launch the interchangeable mirrorless system. And that word" approaches" may give us the hint that they will use the Four Thirds sized sensor of the Canon G1X.
UPDATE: CanonWatch (Click here) just released a new rumor saying that "Canon will showcase their mirrorless ILC to selected customers in Australia during PMA Australia at the end of May. The new camera should then be announced in June."
My two cent: While Fuji and Nikon and Sony have all released different and somewhat unique systems they weren't really able to dethrone the Micro Four Thirds domination. I am curious to see what Canon will bring!