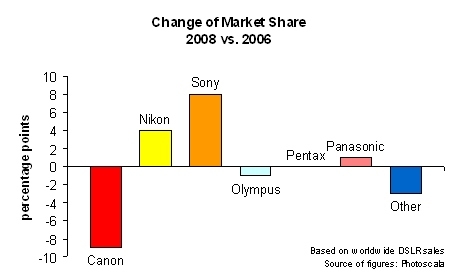 This graphs shows the Market Share variations between 2006 and 2008. The first thing you note is that Canon lost a lot of terrain. Sony and Nikon are doing very well. Olympus loosed 1% Marketshare and Panasonic gained 1%.
I believe Olympus and Panasonic will both gain a little Market Share in 2009 and 2010. Things are may getting worse for Pentax and Canon. And 2010 could be a successfully year for Sony.
More infos are available at photoscala
A 43rumors reader made a nice include("buy/e-p1.php"); ?> vs GF1
comparison. Click here to read it:
http://www.radiantlite.com/2009/09/olympus-e-p1-vs-panasonic-gf1.html
Guys, don't ask me if you have to buy the GF1 or E-P1 or if you have to wait for future new stuff. Believe me it really doesn't matter what you buy! You are never going to make better photos only because you bought the newest model! I mostly shoot film and I only bought two digital cameras since 2001. The camera doesn't matter. A good photographer can take wonderful pictures with a 30 years old camera or a cellular built-in camera.
If you need to buy a camera ask yourself following question: What kind of photos do I want to take? Try to focus on your needs. Do you need to make big prints? Do you need a camera you can always carry with you? Do you want to make landscapes or street photography?
Don't waste your time and money with camera stuff and lenses. Try to find out what you are and what you want to tell. And don't throw your money away!
P.S.: You want to take very good photos with a very cheap camera? Go for this:


Press Release:
Novoflex Micro Four Thirds Lens Adapters
Novoflex, Germany's premier manufacturer of quality digital and analog accessories, announces the availability of a new series of lens adapters to mount older analog and digital lenses onto the new MicroFourThirds camera bodies which include the Panasonic Lumix G1 and the new GH1 and the Olympus E-P1 as well as camera bodies that will become available in the future using the new MicroFourThirds system.
The new adapters are made to very precise and high standards to ensure exact infinity focus on these new camera bodies. With the Micro Four Thirds cameras automatic exposure metering via stop-down metering is possible as is aperture priority auto exposure. Currently the following adapters are available for Micro Four Thirds cameras: Leica M (LEM/MFT); Leica R (LEM/LER); Nikon G and non-G (MFT/NIK); Contax/Yashica (MFT/CONT); Olympus OM (MFT/OM); Pentax K (MFT/PENT); Minolta MD (MFT/MIN-MD); Sony/Minolta AF (MFT/MIN-AF); Canon FD (MFT/CAN); M42 (MFT/CO) and T2 (MFT/T2) lenses on the new MicroFourThirds camera bodies. The MFT/LEM allows owners of Leica M lenses to now use them on a digital camera for much less then the cost of a M8 body!
Novoflex also offers a full range of lens to body adapters for most 35mm and DSLR cameras as well as for Leica M cameras. These adapters allow the switching of lenses from one camera system to another as well as the use of lenses from medium format cameras on these bodies.
* includes mechanical aperture control ring for use with lenses that do not include them.
Mount
MSRP $
MSRP €
Nikon F

*

$ 291
€ 169
Pentax K

*

$ 291
€ 169
Sony/Minolta Alpha

*

$ 291
€ 169
Minolta MD
$ 211
€ 119
M42
$ TBC
€ 89
Leica M
$ 271
€ 149
Leica R
$ 211
€ 119
Canon FD
$ 211
€ 119
Contax/Yashica
$ 211
€ 119
Olympus OM
$ 211
€ 119
T2
$ TBC
€ 89
http://www.novoflex.com/en/products/adapters/adapters-for-microfourthirds-cameras/