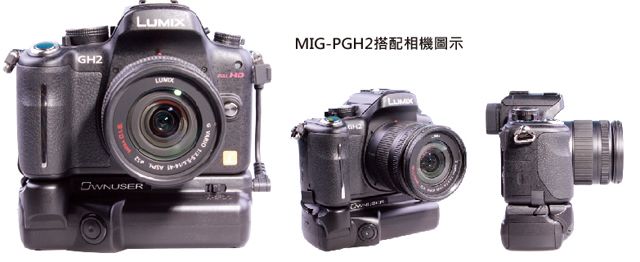 The Taiwanese company Ownuser announced the start of the GH2 battery grip sales. Here is the official press release:
"Dear Customer
We will tell you a good news. PANASONIC GH2's grip is already on the market in 2011/12/20. On this website, you can get more product information.
http://www.ownuser.com.tw/e_mig_pgh2.html
On this website, you can buy products through PAYPAL (online credit card page, like EBAY)
http://www.ownuser.com.tw/e_paypal_panasonic.html
MIG-PGH2 has four purchase specifications
(1) MIG-PGH2B = only BODY (B = BLACK)
(2) MIG-PGH2AB = BODY + MEB-03-c (A = external AA battery pack)
(3) [New specifications] MIG-PGH2RB =BODY + mini IR 2B & RHS (R = IR Remote, not the wired remote control)
(4) MIG-PGH2RAB = BODY + MEB-03-c + mini IR 2B & RHS
We recommend to buy (1) or (3).
Because AA batteries is not recommended as the main power supply that use on GH2 cameras.
Thanks for your business and support, wish you and your family a merry Christmas and happy New Year.
Best regards,
Sincerely,
Ownuser Customer Service"
Soon the battery grip will be on sale on eBay too (Click here to search for Ownuser stuff on eBay).