SLRgear tests the 12-32mm Panasonic lens. Says: "small on size, but big on quality"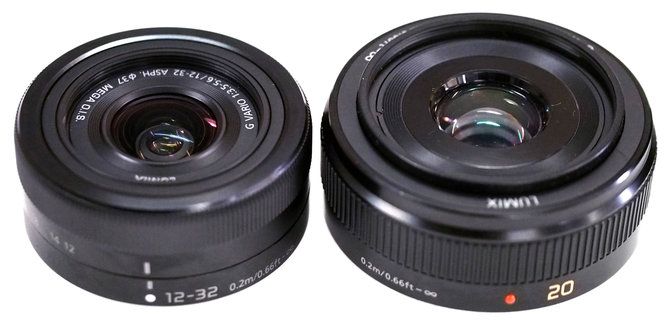 12-32mm vs 20mm size comparison. Image courtesy: ePhotozine.
SLRgear (Click here) tested the Panasonic 12-32mm lens. And their conclusions are pretty positive:

The new Panasonic 12-32mm ƒ/3.5-5.6 ASPH MEGA O.I.S. Lumix G Vario lens is a stellar companion to the tiny GM1. It produces excellent, sharp photos at all focal lengths, even wide open, and has minimal distortion, vignetting and chromatic aberration. And while the lack of a dedicated focus ring is a little disappointing, as manual focusing using the touch screen is a little slow and awkward, overall there's not much to complain about with this lens. The Panasonic 12-32mm is the perfect match for the powerful and pocketable GM1 thanks to stellar optics and a super-lightweight, ultra-compact design.
You can buy the lens separately from the GM1 at Amazon (Click here).
GM1 kit store list:
In US at Amazon, Adorama, BHphoto.
In Europe at Amazon Germany, Wex Germany, Amazon UK, Fotohanskeuzekamp, Cyberphoto Sweden and Wex UK.