Peakto now allows photographers to find their best shots by location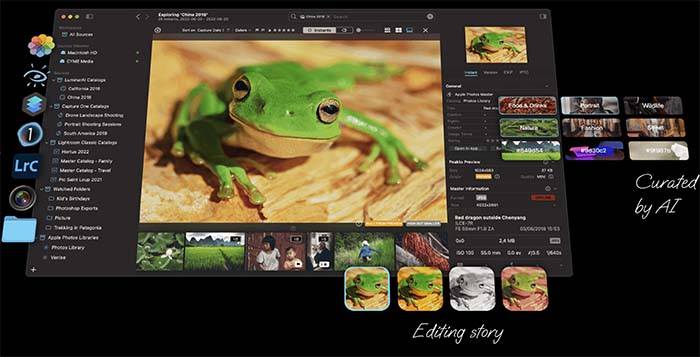 CYME launched the new Peakto 1.2 update (Click here to see all features).  You can as usual test it out for free. The one major feature of this update is the following:
Peakto now allows photographers to find their best shots by location
Peakto adds a new map view that displays photos according to where they were taken.
Combined with an AI that rates the quality of their photos, photographers can now quickly select their best shots from the shoot location.
Peakto is a great cataloger for photographers to gather all their images in one place, sort them automatically, explore them easily and create multi-source albums.
November 16, 2022
Montpellier, France – Today, CYME announces the availability of a new map view in Peakto, a meta-cataloger for photographers that allows them to explore all their photos in a single interface. Photographers' photos can now be displayed on a beautiful world map according to the places where they were taken. This display offers to professionals and amateurs a new navigation experience. Thanks to the combination with Peakto's AI that classifies and rates, photographers can now find their best photos from any selected location.
Best shots from the same location
Thanks to the GPS coordinates of the photo or the photographer's annotations, Peakto locates the images on a world map. Selected photos on the map can be analyzed by Peakto's AI based on their content or aesthetic score. Photographers can thus easily access their best shots and photos, automatically categorized by portraits, architectural shots, food pictures, etc. This intelligent curation lets photographers rediscover their favorite moments and hidden gems from a new perspective.
Peakto is the ideal companion for photo editing software. It offers additional services to photographers. For example, it allows Capture One or Luminar users to benefit from a map view that they did not have before.
Peakto helps photographers manage their photos
Peakto was developed by CYME to help photographers easily find images and to give them back the pleasure of browsing through their photos. Peakto is a photo management software where photographers can find a preview of all their photos and discover their pictures automatically categorized by image recognition.
Why is this such a big deal? Because the time required for photographers to wade through thousands of photos (thanks to digital technology) has taken away the pleasure of diving into their images. Instead of leisurely perusing an assortment of images to select their best shots or favorite angles, finding a picture is now a matter of searching for a file name. But exploring catalogs scattered in the cloud, on different hard drives or in different photo editing software is complicated and time-consuming.
Peakto gives photographers back the pleasure of browsing through their photos by gathering them all in one place, automatically sorting them by category, searching through all the catalogs and allowing the creation of multi-source albums.
Peakto is compatible with many photo catalogs, including the most popular photo editing software– Lightroom Classic, Luminar AI/Neo, Capture One, Aperture, and iView Media. It allows photographers to find all the photos taken with an iPhone thanks to its compatibility with Apple photos and, of course, connects with all the image folders saved on a computer or hard disk. Peakto always stays up to date with photo sources to give photographers a perfect view of all their catalogs.
Price and availability
Peakto is a software for macOS, available by subscription or one-time purchase on CYME.io and on the Mac App Store. Peakto can be tested for free for 15 days (no credit card required on CYME.io). Peakto is available on a monthly plan at $9.99/month; a yearly plan at $99/year; or for one-time purchase of $189.