Panasonic wants to expand the "affordable" lens range.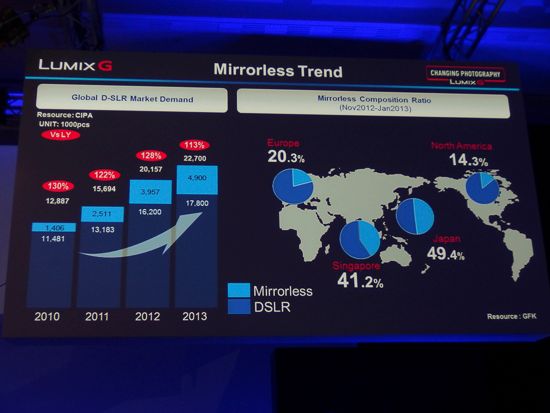 The guys over at DSLRmagazine (translation here) posted a report about the Panasonic event in Vienna.
Panasonic first showed some very interesting market analysis. The image on top shows the growing mirrorless system cameras market share. Asia is leading the innovation with over 40% of all system cameras being mirrorless. Europe follows with 20% and North America with 14% only. And Panasonic camera "owns" 17% of that mirrorless pie. And the strategy is also very clear with the GF and GX cameras goal to be to "Create New Demand" while the GH and G camera will aggress the DSLR market and focus on "Hybrid Photography"
And on that image above you see that it's Panasonic goal to expand the "affordable priced lenses to lead additional purchases". That could explain why it will take one more year until the amazing 42.5mm f/1.2 lens hits the market :(
All images and full report via DSLRmagazine.