(UPDATED) E-M5 at Amazon! E-M5 dynamic range test explained…
The Black E-M5 with 14-42mm kit lens is now in Stock for the normal price at Amazon US (Click here to grab the deal). And it's selling that good that is damn close to dethrone the NEX-7 from the first place of Amazon mirrorlress ranking (Click here). While it already dethroned the NEX at Amazon Germany (Click here).
UDPATE: It is now alreayd SOLD OUT :(
And now an updated about the Techradar E-M5 test results I linked last week: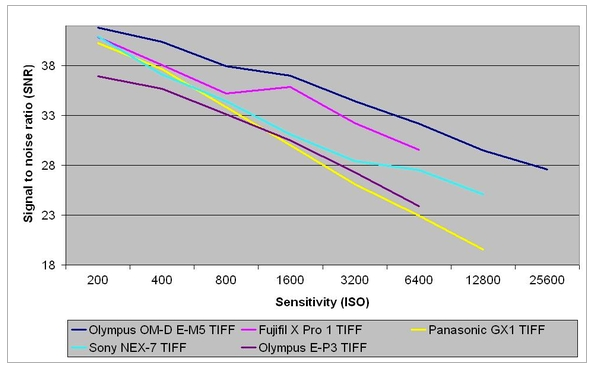 The surprising RAW Signal to Noise ration chart from Techradar.
Last week I posted the graph from Techradar showing that the E-M5 has the best RAW dynamic range and noise handling. yes, even better than the Fuji X PRO 1. But as I told you many times you always be aware that there are so many variables that influence test results that you really have to be very careful. I asked Techradar to explain me their test procedure and they gave me that link (Click here).
I have two more doubts:
1) The super German experts from Digitalkamera DIWA lab (Click here for the translation) discovered that the real sensitivity of the E-M5 starts with ISO 120 (when the camera is set at ISO 200) and ends with ISO 14.200 (with the Olympus setting being at 25.600).
2) It's known that there are not decent RAW converters for the Fuji X Pro 1.
Anyway, we are talking about small differences. The E-M5 is a damn good camera and it will not change the essence of your photography skills to know that it is a tack better or a tack worse than the Fuji :)