New Kodak MFT camera displayed at CES.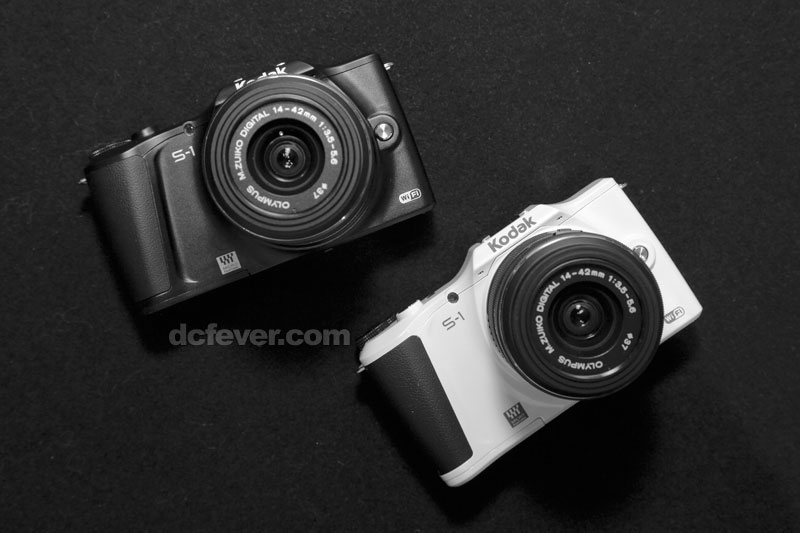 Cnet shared some pictures of the new Kodak MFT camera. And they also have the final specs:
The PixPro S-1 has decent specs, including a 16.8-megapixel sensor, 3-inch tilting 920,000-pixel display, Wi-Fi and 5fps continuous-shooting mode. It will ship with a slowish 12-45mm f3.5-6.3 collapsible lens; the collapsing mechanism looks a lot like Olympus' original design for its 14-42mm lens, and the camera uses sensor-shift image stabilization like Olympus as well. There's a second lens, a 42.5-160mm, as well as a spotting scope that may be part of a second bundle.
And JKImaging marketing director Austin Kazami shared some more thoughts at Amateur Photographer:
"It is a CSC designed for a smartphone audience"…"In Japan, CSCs and DSLRs are treated as two totally separate markets unlike in Europe and the US"…"There will also be an 42.5-160mmmm, plus an 400mm fixed focal length lens."
ePhotozine published the official press text. This is the part concerning the new MFT camera:
Leveraging technical prowess and manufacturing excellence, the KODAK PIXPRO Camera line will introduce its first micro four thirds camera with the S-1. The S-1 is WiFi® enabled, boasts a 16MP BSI CMOS 4/3" sensor, a 3.0″ 920 articulating LCD, sensor shift OIS, 1080p 30fps H.264 FHD Video and lithium-ion battery. The S-1 is priced competitively at $499 MSRP for the entry-level single lens kit and $599 MSRP for a double lens kit and is perfect for the avid photographer looking for a high performance model in a slim and compact design.