Infographic shows the (depressive) state of the camera industry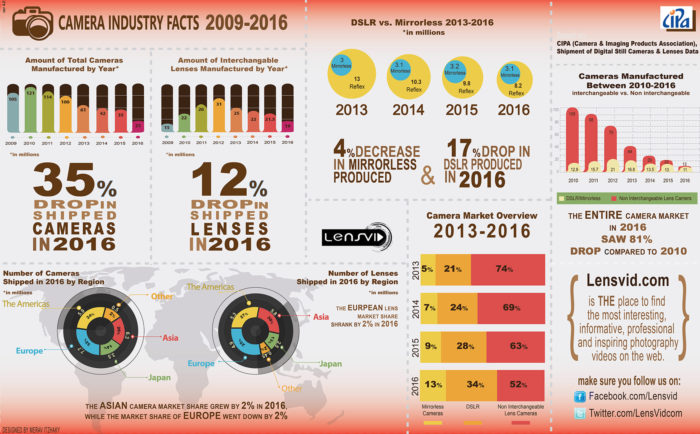 That things aren't going well in the camera industry isn't a news. But if you want to get a clear overview of how things went in 2016 check out the Inofgraphic made by Lensvid:
Smartphones killed the compact camera market – from over 100 million compact cameras sold in 2010 we will most likely see under 10 million sold in 2017. Just for reference, in 2016 the global sales of smart phones reached 1.5 billion units, an increase of 5 percent from 2015.
Mirrorless are not fulfilling their promise – mirrorless are making lots of noise in the photo industry but looking at the numbers they have been more or less stagnant for the past 3 years at around 3 million cameras per year – far from impressive numbers.
The DSLR market is shrinking – this was to be expected but it is not because of the rise of  mirrorless. Why this is happening is probably a combination of reasons – at the entry level some people who might have considered buying a DSLR a few years back just settle for their smartphone camera which is better than ever and will soon improve even further with dual cameras, smart zoom technologies and more advanced features. At the mid to high end segments – there just isn't enough innovation to justify replacing gear as often as it used to be and on the more positive side – cameras are quite reliable and replacing a working camera for a new one which doesn't offer significantly more, just doesn't make sense to many users.
Cameras are for older people – you can't see this in the numbers but we clearly see this all around us – aside from the professional segment – dedicated cameras do not interest the younger generation. The people who are still interested in photography are typically around the ages of 40-60 or more – the same people who maybe shot with analog cameras as youngsters and now have the time and money to invest in photography as a hobby – their children and grandchildren are far less interested in cameras and prefer to use their smartphones.
The only hope is that 2017 will be the first year were sales will not fall. And so far the January shipment report from CIPA looks promising.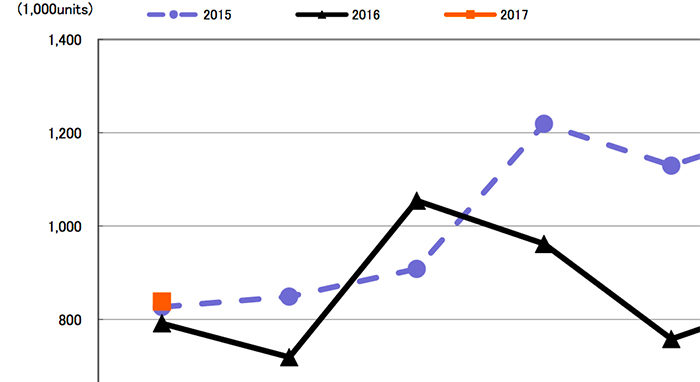 In January we got a 5% increase of camera shipments over the previous year.
Our reader Mistral (Thanks!) also noticed this:
– mirrorless cameras: +48.3 in number of units sold and +47.4% in turnover (shipments)
– DSLRs: -11.1%  in number of units sold and +6.5% in turnover.
– This is also the first month ever during which shipments of mirrorless cameras to Japan were higher than those of DSLRs.