(FT5) Panasonic announcement at 6am London time! X lens with nano surface coating.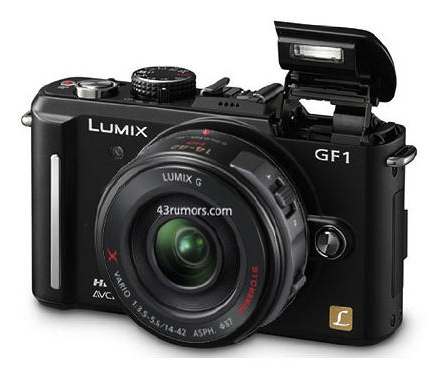 [/shoplink]
A collage made by "Aless" (Thanks!) shows the real 14-42mm X lens on the [shoplink 14828]Panasonic GF1[/shoplink].
Tomorrow (Friday) at 6am London time Panasonic will unveil the new X lens series and two new zoom lenses. We were never that excited about upcoming zooms! I have been told the image quality of the new and very first 14-42mm X lens is impressive (much better than the actual [shoplink 23962 ebay]14-42mm kit lens[/shoplink]). It has Nano Surface Coating, aspherical lens, inner focusing, powerzoom (with button on lens), in lens image stabilization. All this is packaged in a tiny pancake with 1.5x the length of the [shoplink 14796 ebay]20mm f/1.7 lens[/shoplink]! The aperture of the lens is f/3.5-5.6.
A new anonymous source sent me this (take it as FT2!): "The new kit lens will be available with the [shoplink 23109]GF3[/shoplink] in a special kit package, and Panasonic is also going to offer it with the [shoplink 14834]G2[/shoplink] at some point. Had a try with the lens last week at the press event, the way it pops out by itself is actually pretty impressive, and I can see being really useful for slipping into your bag or just dumping the camera somewhere quickly. But it's $250/200 Euro more than the standard kit lens – will consumers want to cough up that kind of money?" P.S.: The current Panasonic kit lens price can be checked here [shopcountry 23962] (around 200 dollars/pounds/euro).
I have no reliable info yet about the second lens, the 45-175mm zoom. I have been told it is also small but I don't know yet if it is an X lens or not.
More: It will be interesting to see how Panasonic will introduce the new "X" pro lineup. Will there be more "X" lenses coming this year? Will there be fast zoom "X" lenses too? Will there also be "X" cameras?
Be online tomorrow at 6am London time. As usual I will make  a useful summary of all news/reviews/interviews and so on!
Loading ...
Loading ...
More pictures: