(FT5) New GM5 and LX100 to cost $899! 35-100mm for $399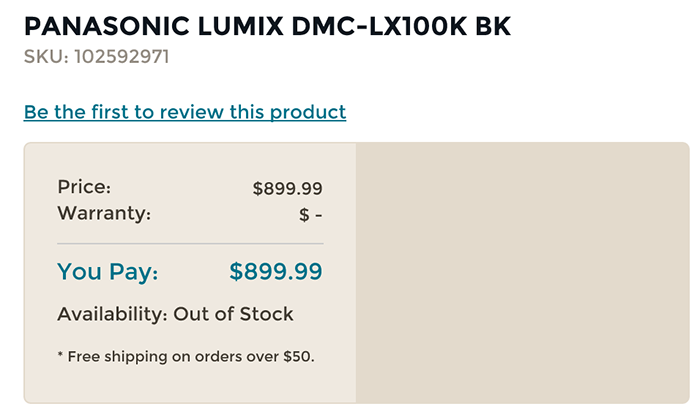 National Camera Exchange is already showing the new GM5 and LX100 pricing info. Both camera will cost $899 each (the GM5 with 14-42mm kit lens included). The Panasonic 35-100mm lens will cost $399. The Gm5 will be a 16MP camera with same built-in EVF as the LF1. The LX100 is the far more interesting camera and has following specs:
 LX100 specs:
– Sensor: 16MP Multi aspect Four Thirds(!). Real resolution is a bit lower.
– 24-75mm f/1.7-2.8 lens
– Built-in EVF: 2,76 milion dots, 1.39x / 0.7x magnification
– ISO 200-25600. Can be extended down to 100!
– 4K recording (with time limitation to avoid heating issue)
– exact camera size: 4.52″ x 2.6″ x 2.4″
– hot shoe
– Looks like a "mini" Panasonic LC1 (here on eBay)
The LX100 costs 849 Euro in Europe! Announcement in a few hours: Olympus at 9:00 and Panasonic at 14:00 Photokina-Köln time!
–
Natcam link found via Dvinfo and via Photorumors.
—
For sources: Sources can send me anonymous info at 43rumors@gmail.com (create a fake gmail account) or via contact form you see on the right sidebar. Thanks!
For readers: Don't miss any news. Join our group on facebook and follow our tweets.
Rumors classification explained (FT= FourThirds):
FT1=1-20% chance the rumor is correct
FT2=21-40% chance the rumor is correct
FT3=41-60% chance the rumor is correct
FT4=61-80% chance the rumor is correct
FT5=81-99% chance the rumor is correct