Continually updated: Panasonic GH2 official!
Keep following us! We will update this post with all links to reviews, hands-on, images samples and more!
Feel free to send me links to interesting stuff. Thanks!
PREORDERS:
[shoplink 16254]Amazon (Click here to preorder now!!!)[/shoplink]
WHAT'S HOT!!!:
– Body only option is available!!! +option with 14-42mm or [shoplink 14802]14-140mm[/shoplink] kit lens!
– The 1080i output is derived from 60p or 50p capture, rather than doubled-up from 24p or 25p on the GH1!
– 1080 60i with variable frame rate (80%,160%,200%,300%)!!!
– 24p native option available at 24 Mbps AVCHD
– 40fps mode using electronic shutter mode
– In Germany the price will be 900.- EUR for body-only. With the kit lens (14-42mm) will be about 1000.- EUR and twith the 14-140mm zoom lens about 1550.- EUR. According to Enagdget "The GH2 will ship in black and silver by "early December," with a body-only model going for $899.95, a 14-42mm bundle going for $999.95 and a 14-140mm bundle for $1,499.95."
– 3CPU In order to achieve high quality processing. Compared to the conventional engine with 2CPU it boasts the power of approximately 1.8 times.
– LVF has 0.71× magnification (1.42 × 0.5)
– It can do 3D


– 3 new lenses: 14mm, 100-300mm and the 3D lens. The 14mm lens will be available late October. The other two by early November.
SPECS and INTERESTING NOTES:
– First preview on DPreview
– Akihabara has been the first to report the GH2 press release: "Announced to be sold in Japan later this october, the GH2 comes with a 16.05Mpix Live MOS Censor, direct support of 3D video! Full HD Video recording at 60fps (1080/60i), Video with AF (like on the [shoplink 14826]GH1[/shoplink]), SDXC Support, an ISO Speed from 160 to 12800, and an impressive ultra fast AF capable to give you the correct focus in just 0.1sec.". It also has a 460,000 dot 3-inch wide-view touch panel and 1.5 M dot EVF. 5fps.
– First image samples on Panasonic website: click here and here!
– Special digital zoom in FHD – 2.6x and 3.9x in other modes. Shooting still during video (with evry small video freeze).
– Panasonic will produce 5,000 units per month. Is that enough? :)
– The official Panasonic GH2 page on Panasonic Japan websites
PREVIEWS and HANDS-ON
First preview on DPreview
Test on SystemKameraForum (you need a registration and test is in german!)
KEY DIFFERENCES COMPARED TO THE [shoplink 14826]GH1[/shoplink]:
* New sensor with 18.3 million total pixels
* ISO range 160 – 12800 vs 100-6400 form the GH1
* Sensor outpus of 1080p at 60 or 50 fps (GH1 24 or 25 fps)
* Faster sensor read-out promises faster AF and smoother viewfinder image (less tearing)
* Larger EVF (852 x 600 rather than 800 x 600 pixels)
* Touch-sensitive LCD screen
* New, more modern looking menu screens
* G2-style combined AF mode/pattern control on top plate
* Direct movie shooting button moved to top plate from rear of camera
* Control dial moved from front of handgrip to rear of camera
* Dedicated metering and 'film mode' buttons replaced by highly customizable Fn buttons
* Q menu button moved from top plate to rear of camera
* New battery (DMW-BLC12E) with fractionally smaller capacity (1200mAh vs 1250mAh)
* Slightly heavier (394g compared to 385g body only)
USER REACTIONS:
GH2 official discussion thread at DVXuser-forum (With the GH1 hacker as moderator!)
E-P1.net
IMAGE SAMPLES:
More images samples on Panasonic.net
On Panasonic website: click here and here!

VIDEO SAMPLES:
Presentation by Panasonic Germany on Youtube
First video samples on Panasonics Japan!
GH2 first look on youtube
PRESS RELEASE:
ThePhoBlographer
Enagdget
Imaging Resource
Letsgodigital
Focus Numerique (french)
Quesabesde (spanish)
Digitalcamerareview
Photoscala.de (german)
Chip.de
The official Panasonic GH2 page on Panasonic Japan websites
Panasonic GH2 japanese press release
[Photokina 2010] Lumix GH2 officially Official! (Akihabara)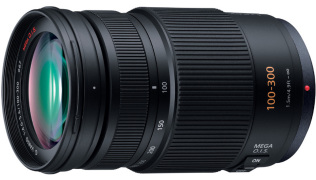 LENSES:
Panasonic 14mm f/2.5 lens at DCwatch
Panasonic 12.5mm f/12 3D lens at DC.watch
Panasonic 100-300mm F4-5.6 MEGA O.I.S lens at DC.watch

There is also a zoom lever for the 14-140mm lens
Loading ...