Canon launches the new EOS-R. That's the camera Panasonic has to beat!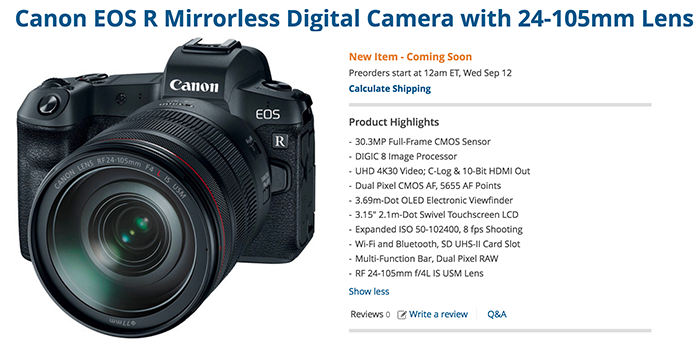 At last Canon announced their new Full Frame mirrorless Canon EOS-R camera (live coverage on CanonWatch). Based on the specs THIS is the camera Panasonic has to beat! Canon clearly made this cameras for youtubers:
It has over 5.000 AF points, Dual Pixel AF and EV-6
It outputs 10 bits 4:2:2
It has a fully articulated screen
Focus by wire lenses with some great lenses: 50mm f/1.2 and 28-70mm f/2.0
Panasonic has at least to match these feature and honestly…probably beat them to have a chance in this new market. The new Canon ins't all good. There are some cons Panasonic can certainly exploit in his favour. Here is the PRO and CONS list via SAR:
Canon PROS:
– World's fastest autofocus
– Full compatibility with existing EF lenses
– A cool adapter with drop-in filter
– The new EOS-R lenses are focus by wire and have an extra customizable ring
– The new EOS-R lenses are stunning
– It has 10 bit 4:2:2 output just like the Nikon Z
–$2299* for the body only. It will also be sold as a body-and-lens kit with the new RF 24-105mm F4 L IS USM lens for $3399*.
Canon CONS:
– lack of IBIS
– single slot card
– Low battery life: 370 shots
– The EOS R does have eye-AF but only S-AF. (info via Jordan Drake)
– It uses the same "Old" 30MP sensor from the 5D IV (with more phase detection pixels added)
– The cool lenses are expensive: RF 50mm f/1.2L at $2,299, the RF 28-70mm f/2L at $2,999
– Roadmap doesn't disclose what lenses we can expect
– The dial on the left is just an ON-OFF button
– Canon will not be opening up the RF mount specs to third parties (info via Jordan Drake)
– No AF-C in continuous high drive (slower FPS compared to Sony cameras)
– Still a huge ass crop in 4K recording. Looks the same as 5D IV. Heavy rolling shutter as well. (info via Jordan Drake)
– 1080p does 60fps and not 120fps
So what are your thoughts on this new camera?