BCNranking video camera sales: Sony surpasses Panasonic and is now on top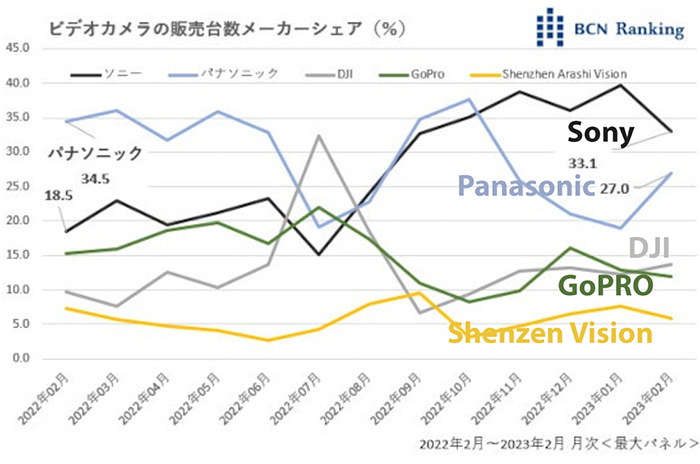 BCNranking published the latest video camera sales results in Japan:
Sales of video cameras are gradually recovering.

This February, the sales amount recorded a double-digit increase of 112.1% compared to the previous year.

Sales volume is still 91.4%, lower than the previous year, but the negative margin is gradually narrowing, and the same level as the previous year can be seen. One of the reasons for the early recovery in sales is the rise in unit prices.
Looking at the market share among manufacturers, as of February last year, Panasonic was leading by a large margin. On the other hand, Sony struggled with 18.5%. However, in August, it overtook Panasonic by a narrow margin and jumped to the top. Although Panasonic lost the lead in September and October, it was Sony that increased its market share from September onwards despite price increases. Recaptured first place in November. Since then, it has stably maintained a market share of more than 30% and is leading the way.
In the video camera market, the number of units sold is 41.7% compared to February 2020 due to the impact of the corona disaster, which is almost 60% less. The market environment is not necessarily favorable. However, new product categories such as action cameras and 360-degree cameras are doing well. Conventional video cameras are also regaining momentum, and we are beginning to see a gradual turnaround.
via Digicameinfo