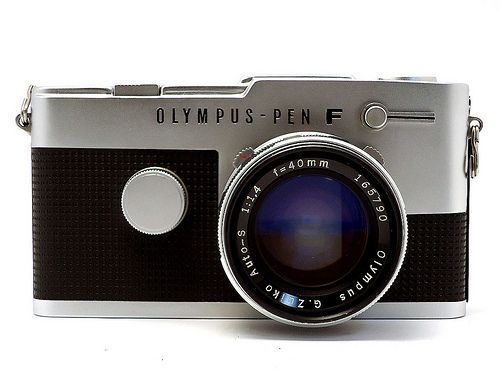 Olympus PEN history is very long and plenty of nice cameras have been created. And let's check what kind of design could be used for the future PEN models. And if you dream of a digital PEN with integrated viewfinder than you cannot avoid to talk about the superbly made
Olympus PEN-F (here on eBay)
!
And the viewfinder isn't juts a "normal" viewfinder.
Camerapedia
writes: "
The Pen F is a quite compact camera with a porro prism viewfinder, which completely avoids the traditional SLR prism bulge because the reflex mirror flips sideways, resulting in a compact viewfinder arrangement.
" You can see the
back of the PEN-F here
. Another unique feature was the rotary focal-plane shutter that has the advantage that you can sync with the electronic flash at all shutter speeds.
But overall the camera shines because of the clean and extremely elegant design. Maybe its just me, but I would love to see the same design on a future PEN with integrated viewfinder! And with the same cult lens cap (they are here on eBay).
More about the camera at Cameraquest and Camerapedia. PEN-F acutions on eBay (Click here).
So let me know…
Loading ...