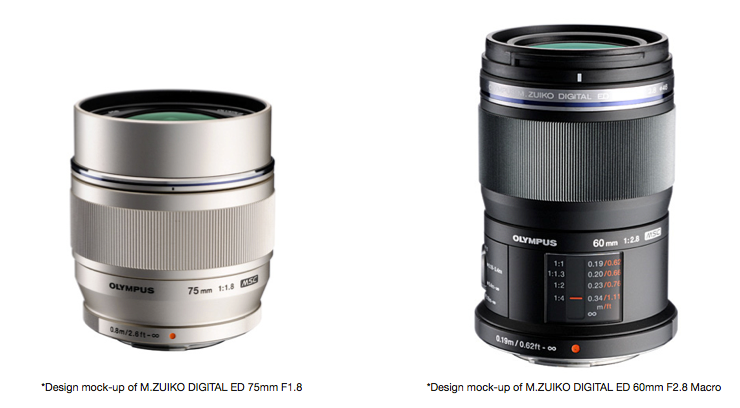 The new E-M5 camera will be announcd within one hour and there are new "last minute" leaks
First you can find the full new lens press release on Olympus Australia website (Click here to downlaod the pdf).
Cnet pusblished their E-M5 video review fo a couple of minutes on youtube (it has now been removed).
Than we have the full press release at E-P1.net.
Image samples (Click on it to enlarge):
http://blog.bergencountycamera.com/wp-content/gallery/olympus-e-m5/b1112958.jpg
http://blog.bergencountycamera.com/wp-content/gallery/olympus-e-m5/p1020152.jpg
http://blog.bergencountycamera.com/wp-content/gallery/olympus-e-m5/p1130148-sm.jpg
http://blog.bergencountycamera.com/wp-content/gallery/olympus-e-m5/s2221124-sm.jpg
And Clubsnap (Click here) posted a full interview with MR. Terada! Here is the text:
"CS (Clubsnap): Top of mind concern is actually how Olympus is intending to build back trust with consumers after the recent accounting scandal?
TT (Terada): I would like to apologize to our clients and want to confirm that our Imaging business is separate from the department that was in the news. Business at Olympus Imaging Corporation is going on as usual. We continue in building client loyalty and trust by continuing to develop and introduce new products and by making sure that our service to clients is good.
CS: The PEN series has been a huge success since it was first launched appealing to a younger generation , which segment of the market is the OM-D targeted at ? What's Olympus rational in the OM-D E-M5 design and when was it concieved?
TT: We began to consider the M4/3 system 3 to 4 years ago. We identified 2 target groups of users of the 4/3 system : Customers who wanted an easy to use camera and customers who were serious photographers looking for a compact system that was easy to carry in any situation. The 1st product, the PEN E-P1 was developed and introduced to distinguish it from a DSLR. 1 year ago, we considered the concept of a FULL System that benefited from using a viewfinder where composing from a large LCD screen was difficult (eg with longer lenses)
CS: Please share with us more on the new 16mp live MOS sensor and 3D autofocus found on the OM-D?
TT: The new 16mp Live MOS image sensor produces lower noise at High ISO and boasts Dynamic Range that is a 1/3 improvement over current sensors. Combined with an advanced TruePic VI image processor, the results ensure superb color fidelity , at high resolution, sensitivity and colour accuracy.
TT: Autofocus is faster (fastest in the world) because of the new 3D tracking autofocus technology. Apart from being faster, it is also more accurate.
TT: 3D autofocussing sequentially tracks subjects (even subjects that are moving directly towards/away ) and works best at 4fps
CS: How is 5 Axis Image Stabilizing in the OM-D different from normal image stabilizing?
TT: Current image stabilizing technology relies on 2 axis. The problem was that rotating/rolling actions could not be compensated. 5 Axis Image Stabilizing takes care of this problem with 2 magnets front and back with the sensor 'floating' in between. It takes care of pitching, yawing, horizontal/vertical AND ROTATIONAL movements. An entire new mechanism had to be designed to make this possible.
CS: I noticed that the OM-D body and the new lenses are splash proof, will it need much maintenance on the part of the owner ?
TT: Owner will need to just wipe a wet OM-D with a towel to dry it off . It can withstand heavy rains and is built to the standards of our E-series of cameras and lenses. Our E cameras has not received a 'Wet Claim' warranty yet till today. The OM-D line weather sealing are of the same standard in sealing.
CS: Will peak focus be coming soon?
TT: Maybe in future. I feel that magnified focusing is still better
CS: Any plans to make a lens adaptor to allow the use of older OM lenses onto M4/3 bodies like the OM-D ?
TT: I cant remember the model , I think its MF2, but we have one already
CS: ha ha Oops…
CS: Many photographers who adopt the Micro 4/3 system have been using these cameras for street photography and photojournalism type images but lens choices are still limited. How difficult would it be to design and manufacture an ultra wideangle prime lens eg a 10mm f2.8 ?
TT: Technically it is possible…. it might be a little big if you want fast f-stop . We already have the ultra-wide 9-18mm zoom and the recently released 12mm f2. Yes, we can consider the possibility of faster and wider prime lenses.
CS: When will the OM-D be available to the public ? Which countries will get it first ?
TT: Soonest on sale will be around mid to late March. Singapore, Hong Kong and Japan should be the first countries in Asia to receive them
CS: What will the OM package be like? Body only? Body with Kit Lens ?
Jimmy Loh (Olympus Imaging Singapore GM): It will be in 3 combinations … Body Only … Body + the new 12-50 zoom … and Body + 14-42 zoom + 40-150 telezoom
CS: The current OM-D max shutter speed of 1/4000s is limiting especially with minimum ISO of 200…. Any plans to increase max shutter speed?
TT: Yes this will be a problem in shooting in bright sunlight, we will consider this in future
CS: What about lenses for birding? eg. a 300mm.
TT: We would like to cover the photography field so yes that is a serious consideration we have to think about in the future
CS: With the EP3 and now EM5, the fastest Contrast Detection AF in class, do you think that CDAF can now rival PhaseDetection AF in speed and AF tracking?
TT: This is reliant on shooting speed and it is difficult to test side-by-side
CS: Any plans on introducing pancake lenses in future ?
TT: No comment ha ha. Its under consideration
CS: The XZ-1 compact has been a huge success since its launch in 2011. Can we expect an upgrade sometime soon?
TT: Yes there will be a successor to the XZ-1….. ha ha ha but cannot reveal anything yet.
CS: And with so much attention on M4/3 Olympus seems to have been a little quiet on the E-series
TT: We continue to be firmly supporting the E-system"
Cool!