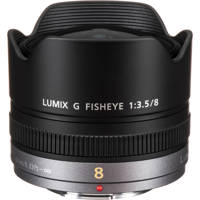 You didn't forget that there is a ne lens from Panasonic? The Panasonic 8mm f/3.5 Lumix G Fisheye Lens is in Stock at Adorama (Click here). Price: $799.95!
More deals:
The Panasonic LUMIX G 20mm f/1.7 Aspherical Pancake Lens is in Stock for $336 only at Amazon (Click here).
. Needless to say that this is a "must-have" lens
Discount on the Black and White Panasonic LX5 at Amazon -> $466.98 only (Click here).
Something different. You can preorder the Panasonic HDC-SDT750K, World's First Consumer 3D Camcorder at Amazon (Click here)
. This item will be released on October 15, 2010.