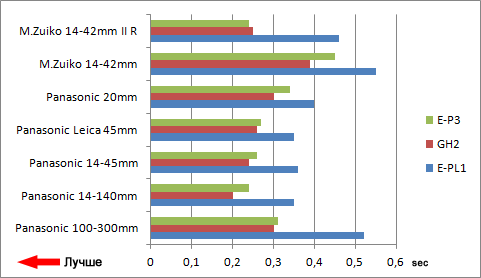 Russian Olympus forum user "kkn" measured AF speed of some micro four thirds cameras. The text is in russian but the good news one of our russian readers (Thanks!) told us how he made those measurements: "In two words: he records camera's sounds during AF process and measures the time between button half press' click sound and AF confirmation sound. He does not measure time for exposure (obvious) and time needed to clean up the matrix. He does not also measure time needed to close diaphragm (which can be quite slow, for example, Panny 20mm f/1.7 has very slow diaphragm and much quicker on its open (f/1.7) than, say, f/4). He does 10 or more measurements for each lens using same light conditions, but different subject's distances and provided average values."
As you can see the Panasonic GH2 still focus faster than the new Olympus E-P3 when using Panasonic or the "older" Olympus lenses. The only time the E-P3 is faster is when using the new 14-42mm IIR kit lens.
I don't know how accurate the test is. That test goes against the common perception reviewers had about the E_P3 being much(!) faster than any other m43 camera in good light conditions. Take it with a grain of salt!