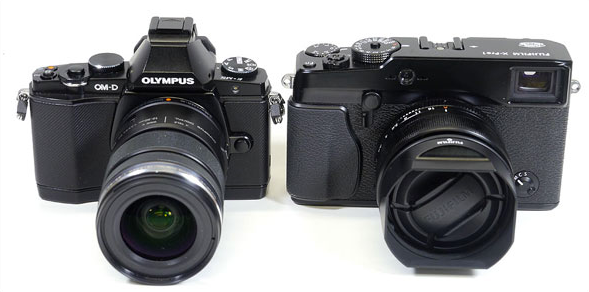 Of course this is a pretty unfair comparison. We are comparing apple with oranges. Both cameras are different priced, have different specs, and different strengths. The Olympus E-M5 is cheaper, has a faster AF, weather sealed body. The X PRO 1 has a super image quality and a very innovative hybrid viewfinder. But ultimately isn't it interesting to see how great the image quality difference is?
Our reader Gabrielle Motola sent me the link (Click here) to a short test made with both cameras. Gabrielle explicitly says that is not a regular and scientific test. Her impression is that "this test clearly showed me is that both cameras are capable of providing an outstanding image. The choice of purchase comes down to preference and operational flow."
Here are the images:
E-M5: Full Size and 100% crop.
X PRO 1: Full Size and 100% crop.
X PRO 1 lens test:
A great lens test has been published by Valentin Sama. read more at MirrorlessRumors.com
Price difference:
The E-M5 costs $700 or 500 Euro less than the X PRO 1:
E-M5 at Amazon, Adorama, BHphoto, J&R, Jessops, Amazon UK, Amazon Deutschland and Amazon Japan.
Fuji X PRO 1 at Amazon, Adorama, Bhphoto, Epxansys US, Expansys Canada, Jessops UK, Expansys UK, Amazon Japan and eBay Japan.