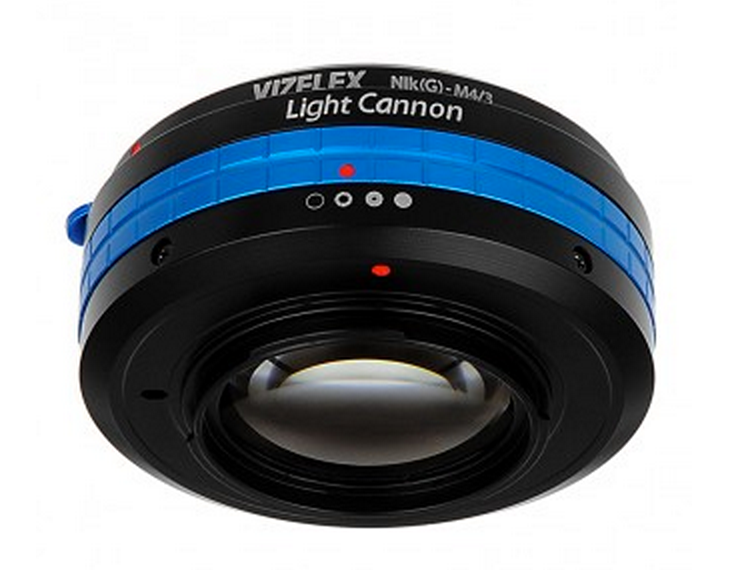 First we had the Speed Booster (first Leica R to MFT adapter is shipping)  then we had the Lens Turbo (coming soon) and now we have a third new adapter offering a 0,72x focal length conversion and 1 stop increase: It's the Vizelex Light Cannon from Fotodiox Pro (available here at Fotodiox). What I am not sure about is if actually that Vizelex is based on (or has the same) Lens Turbo design or if it's a completely new lens. These are the full details and the focal length multiplier is the same from the Lens Turbo:
The Vizelex Light Cannon from Fotodiox Pro is an advanced lens mount adapter that not only attaches a Nikon Lens (including G & D type) to a Micro 4/3 (MFT) camera body, but has added light focusing optics which makes the lens wider by a 0.72x factor and increases the maximum aperture of the lens by 1 stop. This effectively allows use of your 35mm lenses on a crop sensor camera and not lose the angle of view normally associated with lens mount adapters (ie, 50mm lens stays roughly a 50mm lens equivalent).

Additionally, this light focusing optic gives a faster than normal aperture, turning a f/2.8 into the equivalent of a f/2.0; perfect for shooting in low light situations, when you need a faster shutter speed, or want a lower ISO sensitivity! The blue dial on the adapter is an aperture adjustment dial which allows the iris to be adjusted on even the Nikon G & D lenses; on older Nikon lenses with a aperture dial on the lens, the blue dial on the adapter can act as a depth of field preview lever allowing you to switch back and forth between wide open and stopped down to a certain f-stop.

As with all Fotodiox Pro series adapters, these adapters have been specially crafted to endure professional use. The leaf spring design in the adapter holds the lens tight to the camera body ensuring there is no play between the camera and the lens. The all metal design and polished surface is designed to guarantee a smooth mounting and long lasting experience. With unique styling, the lens mount adapter maintains a professional appearance. Although the lens will fit physically, automatic diaphragm, auto-focusing, or any other functions will not operate correctly while using this adapter. Because of this "stop-down mode" will need to be used when metering since the lens does not have the ability to have its aperture controlled by the camera body. You can shoot with manual mode or aperture priority mode. Infinity focusing is guaranteed.

| | |
| --- | --- |
| Adapter Type | Vizelex Light Cannon – Nikon G Lens to Micro 4/3 system |
| Infinity Focus | Yes |
| F-Stop Gain | 1-Stop |
| Crop Factor Gain | 0.72x |
| Aperture Control | Yes via Adapter |
| Material of Construction | Brass with Stainless Steel Finishing |
| TTL flash metering | Yes |
| Manufacture | Fotodiox Inc. |
| Warranty | 24 Months |
The adapter is priced at $159.95.
—
P.S.: The Leica R to MFT adapter is finally in Stock at Metabones (Click here). You can use some great Leica lenses with it: