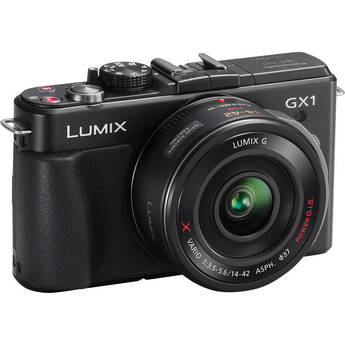 Reghardware
posted the full GX1 review: "
Its superb build quality and ergonomics are matched with speedy performance and excellent image quality. It's a little unnecessarily complicated to use and could do with a few more operational hints from the screen, but put in a little time with the manual and you'll reap great rewards.
" The GX1 like many other cameras and lenses got a huge discount thanks to the just launched Panasonic US June rebates. Something we Europeans cannot enjoy :(
First let's say that the price "cheater battle" on eBay just started! The just announced 12-35mm Panasonic X lens is available for $1751 on eBay (via Japan reseller). As usual Asian resellers will be the first to ship you the lens but it's quite an extra you have to pay for it!!!
And now let's see the opposite of a bad deal :) Take a look at the nice overview of all Panasonic camera rebates can be seen at BHphoto. And another Panasonic lens rebate page is also at BHphoto. I updated the list I posted yesterday including the new entries and the Olympus E-PL1:
1) Olympus E-PL1 for $251 at Amazon.
2) Panasonic 14mm pancake for $260 at Amazon.
3) The 3D lens is in Stock for $49 only at BHphoto and for $67 at Amazon.
4) Panasonic GF3 with 14mm lens for $369 in Brown at BHphoto and in White at Amazon and BHphoto.
5) Panasonic 14-140mm for $499 at Amazon and BHphoto.
6) The Panasonic 45-175mm X lens is now in Stock for $299 at BHphoto. For $282 at Samys.
7) The 14-42mm normal lens (not X!) is in Stock for $99 at Amazon and BHphoto.
8.) The 14-42mm X lens is in Stock for $328 at Amazon.
9) The Panasonic 45-200mm lens sells for $199 at Samys.
10) The Black GX1 with X kit lens is in Stock for $739 at Amazon and BHphoto and $619 with the 14-42mm lens at Amazon and BHphoto.
11) Panasonic GF3 lens with 14mm pancake for $379 at Amazon.
12) GH2 body for $749 at Amazon. GH2 with 14-42mm lens is in Stock for $799 at Amazon. GH2 with 14-140mm lens for $1,179 at Amazon.