(FT5) E-M5 successor has sensor shift to create up to 40 megapixel images on the fly!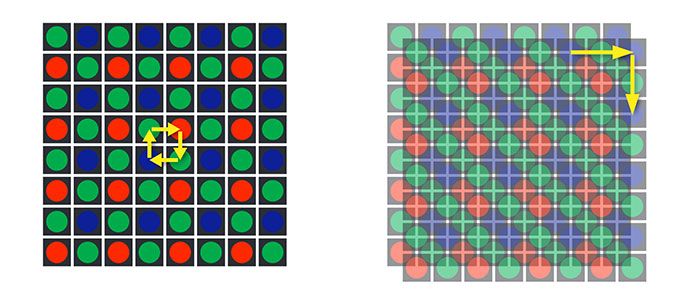 The Pixel shift tech from the Hasselblad H5D-200c. Something similar is coming from Olympus.
An anonymous source sent me a precious info that I luckily could confirm via one of my best trusted sources. So here is the big news:
The new Olympus camera coming during the first week of February will be called Olympus E-M5II (or E-M5 Mark II). And the big new feature of the camera is "sensor shift" shooting. The camera has a 16 Megapixel sensor that can shoot up to 40 Megapixel by shifting the sensor (in up to 8 frames of single shots).
The sources didn't explain me in very detail how it works but my guess is that it works in a similar way of the Hasselblad H5D-200c. Hasselblad (Pdf file here) describes the tech in that way:
High precision piezo-electrical actuators control movements of the sensor in ½ and in one pixel increments. By combining six shots, offset by a combination of both ½ pixel increments and one pixel increments, the colors, Red, Green and Blue of each point are obtained with a double resolution in both the X and Y directions. The result is an astonishing 200Mpixel full color image with no artifacts, such as moiré.
The Bayer Mosaic filter pattern covers the pixels of the sensor. Moving the sensor in one pixel increments between shots, allows for the exact R, G, B values to be captured in every pixel. The multiple captures are then assembled to deliver the correct colors and ultimate definition of detail. Adding captures, each offset by a ½ pixel sensor movement, creates space for extending the sensor resolution from 50Mpix to 200Mpix. The outstanding definition of color and detail is maintained