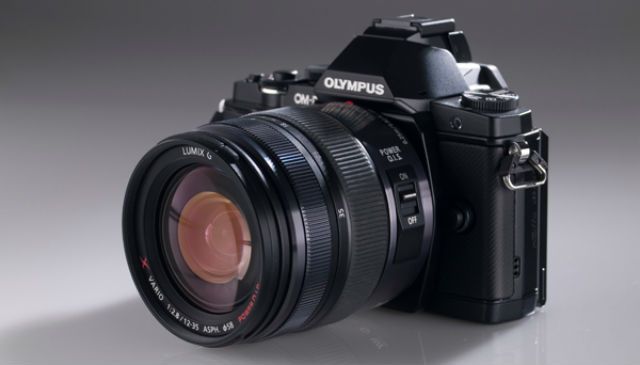 The E-m5 with the 12-35mm X lens (Image courtesy: DSLRmagazine).
Luminous Landscape is one of my favorite websites and they just published a long and as usual very well written E-M5 and 12-35mm X lens review (Click here to red the full article!).
E-M5:
It's a very honest and practically oriented test (which I like a lot). In short LL says that this is the best m43 camera yet: "It is a winner, and has now become my preferred camera for travel and urban walk-around shooting"…"there isn't a camera with a superior MFT sensor. The OM-D E-M5 is likely the most highly configurable camera ever. Dynamic range looks to be quite close to any other mirrorless system and in terms of colour accuracy the O-MD may be among the best current cameras. Skin tones are particularly pleasing right out of the camera, with JPGs as well as raws in Lightroom 4.1. Video on the OM-D is OK, but not great." Of course it has flaws and issues like any camera and LL list them all. Most of them can be fixed via further firmware upgrade (which I hope arrives soon).
12-50mm and 12-35mm X lenses:
They are not si impressed by the 12-50mm Olympus kit lens: "In fact it's a pretty good lens, but it's not a great lens." But there is also another critic: "A $500 lens should have a shade included, it's as simple as that. To not do so is an insult to customers."
LL also had the new 12-35mm X lens for testing: "Simply put, this is a first rate lens".
It's a gold time for Micro Four Thirds and there is a lot of big news coming soon…GH3, new PEN's a new lenses! Great!
New E-m5 and new lens (pre)orders:
E-M5 at Amazon, Adorama, B&H, Jessops, Amazon UK, Amazon Germany, Amazon France, Amazon Japan and Digitalrev.
Olympus 75mm lens at Amazon, Adorama, BHphoto, Amazon Germany and Amazon UK.
Panasonic 12-35mm X lens at Amazon, BHphoto, Adorama, Amazon Germany, Amazon UK, Amazon Japan and Digitalrev.