You are browsing the archive for reviews.
Gizomodo also likes the GF1
Link: http://gizmodo.com/5382689/panasonic-gf1-review-i-
Thanks Kevin for sending me the link!
The include("buy/45.php"); ?>has been reviewed at dpreview: http://www.dpreview.com/lensreviews/panasonic_45_2p8_o20/.
The lens is available for preorder only (shipment begins early November): include("buy/45.php"); ?>
Slregear made a in depp review of the Olympus 70-300mm lens: http://www.slrgear.com/reviews/showproduct.php/product/1102/cat/15
In short: Zuiko lenses never disappoints
The Olympus Zuiko 70-300mm f/4.0-5.6 ED Lens
is in stock at amazon
I found interesting what they wrote about the video implementation in digital stills camera: "My second point about hybrid video/stills cameras is that they're never going to work satisfactorily. If you look at the way the ergonomics of the typical video camcorder has evolved, the body is designed to rest on the flat palm of the right hand with the forearm vertical, a grip that is well suited to panning the camera smoothly in the horizontal plane, and all the main shooting controls are accessible with the minimum of hand movement, so that you don't cause camera shake when filming. By contrast a digital SLR is designed to be held in both hands, gripped tight into the chest for maximum stability when shooting stills. The controls are not designed with stability or shake reduction in mind, because they don't have to be. My point is that the body shape and control layout of a typical DSLR is fundamentally unsuited to hand-held video shooting, and I really don't believe that any sort of successful hybrid is even possible using current camera forms."
Anyway they really liked the image include("buy/gh1.php"); ?> quality.
You can read the whole review here: http://www.trustedreviews.com/digital-cameras/review/2009/10/17/Panasonic-Lumix-DMC-GH1/p1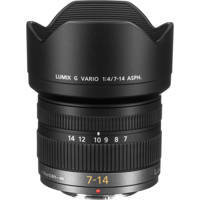 Adorama made a quick review. And once again this lens proves to be one of the best Panasonic lenses ever made. If you want to get one of this masterpiece keep in mind that the include("buy/714.php"); ?> is rarely in Stock.